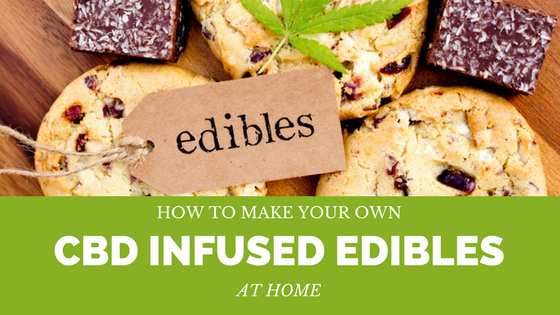 Whether you're a natural chef or simply looking to take your CBD experience to the next level, crafting your own CBD infused edibles from the comfort of your own home can be a rewarding and enjoyable experience.
I do not consider myself to be a great cook at all, but I certainly do enjoy making my own CBD edibles!
You may begin searching for at home alternatives to pre-made edibles, because you have realized finding great tasting edibles can be frustrating. This difficulty is further multiplied if you or a loved one has gluten allergies, intollerances, dietary restrictions, or picky eater syndrome :).
Today we are going to show you the exact steps to make CBD edibles at home, plus, if you stick around to the end we will give you 3 delectable step-by-step recipes that you can immediately start making!
How to Make CBD Edibles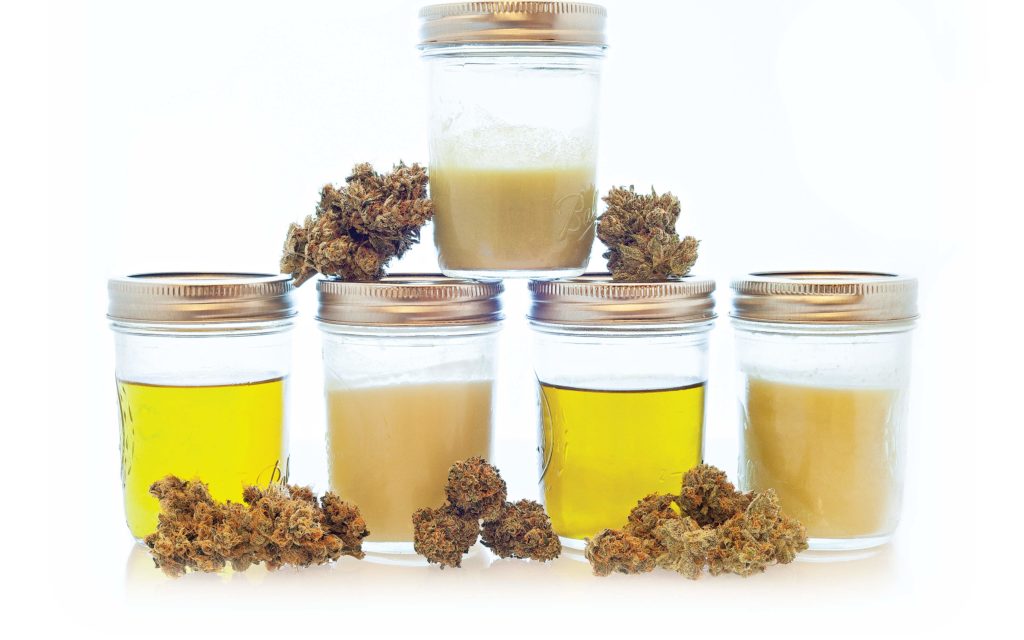 Before you start tossing CBD into the recipes of your favorite dishes, you should first know that cannabinoids such as cannabidiol (CBD), are lipophilic or fat soluble. CBD and other cannabinoids like THC are also hydrophobic, meaning they will not readily dissolve in water.
These characteristics are the reason for fatty substances like butter or oil being the most popular methods to craft cannabis infused edibles. This is excellent news for you though, as it allows you to choose the best medium for not only specific recipes but also for your personal preference.
The most popular fats to use for cannabidiol edibles include:
Butter
Glycerin
Olive Oil
Coconut Oil
Important Tips to Remember When Cooking with CBD
Before we jump into showing you the exact steps for making your own CBD butter, fat, or oil, here are some some things to keep in mind.
Cannabidiol's boiling point ranges between 160-180°C (320-356°F). So it's important that you lean more towards lower cooking temperatures, as cooking at temperatures higher than this can actually cause some of your much wanted CBD to evaporate. Lowering the overall potency of your finished edible or dish.
Always do the math and be aware of your serving size so you know exactly how much CBD you are ingesting per serving. Don't worry I hate math too, but finding your serving size is actually pretty simple. For example, if you have a recipe that calls for 4 tbsp of your CBD infused butter, and you used an oil or tincture with 250mg of CBD. Simply divide that number by the number of servings you make and you now have your serving basis of cannabidiol.
Be aware of the potential side effects of cannabidiol.
Cannabinoids are extremely sensitive to heat and light, so after you have made your butter, oil, or glycerin infused with CBD, you should store it in a cool and dark environment.
How to Infuse CBD Into Your Desired Fat
Now that you know the types of oils and fats you can infuse with cannabidiol, as well as the important cooking tips. Let's look see how to actually make CBD oil or butter.
Step 1:  Grab 8 tbsp of your favorite oil (olive oil, coconut, etc.), or a stick of butter (8 tbsp) and put it into a pan
Step 2: Turn on the stove and allow it to warm, remember try to stick on the low side of the 320-356°F boiling points to avoid having some of your CBD evaporate.
Step 3: Once the stove is warm, place the pan onto the oven and gently stir until the butter melts or the oil is warmed.
Step 4: Add your choice of CBD oil, this can be either pure hemp derived CBD oil, pure CBD isolate, or you could also use a tincture.
Step 5: Now, use a spoon to mix the pan filled with CBD oil and your choice of oil/butter until well combined.
Step 6: Either use the entire mixture or store in a cool dry place, using a sterilized container. To be used later on in your favorite dishes as a substitute of regular butter or oil.
Now you are well versed on how to exactly make your own CBD infused butter or oils that you can use as a salad dressing, to infuse your favorite baked goods, and so much more.
And since you've made it this far, you are obviously extremely interested in making your favorite dishes infused with cannabidiol.
And as promised earlier, below you can find some tasty recipes infused with CBD!
3 Delectable CBD Infused Recipes You Need to Try
Blazin' Good Mac 'n Cheese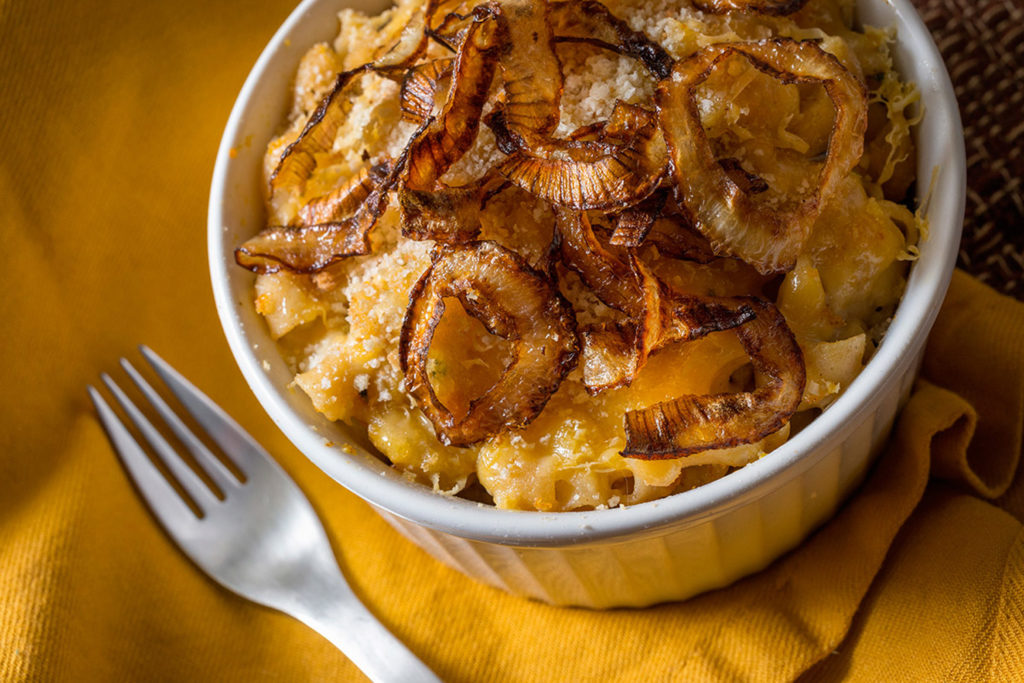 Prep Time: 5 Minutes
Cook Time: 25-35 Minutes
Serving Size: 4-6
Ingredients:
1/2 Pound Elbow Macaroni or Shells

1 Tablespoon of Canola Oil (Vegetable, Olive, or Coconut Oil)

1 Teaspoon of Salt
Cheese Sauce Instructions:
5 Tablespoons of Your Freshly Made CBD Butter

1/2 Cup of All-Purpose Flour

2 1/2 – 3 Cups of Warm, Milk

1 Cup of Smoked, Grated Mozzarella (Can be Substituted for Cheese of Your Choice)

2 Cups of Grated Cheddar

1 Teaspoon of Salt (Kosher)

1 Teaspoon of Smoke Paprika

1/2 Teaspoon of Freshly Ground Black Pepper

1 Cup of Breadcrumbs

1/2 Teaspoon of Ground Nutmeg

(Optional) 1 Tablespoon of Canola Oil (Could also Use CBD Infused Canola Oil)
Onion Rings Instructions:
1 Small, Peeled and Thinly Sliced Onion

1 Cup of Canola Oil (Or Oil of Your Choice)
Cooking Instructions:
Heat Your Oven to 375 Degrees.
Step 1: Grab a large pot and fill it with water, salt, and oil. Bring the pot of water to a boil and add the macaronic noodles. Cook the noodles according to the instructions on the package.
Step 2: Melt your cannabidiol butter in a small saucepan on the stove, combine flour and cook. Whisk consistently for 5 minutes.
Add milk and allow to cook for another minute or two. Now, add the cheese sauce, salt, pepper, paprika, and nutmeg. Add the cooked macaroni and stir until their there is a consistent base. Pour into a baking dish.
Step 3: Grab a small bowl and mix canola oil, breadcrumbs, and sharp cheddar. Then sprinkle on top of the macaroni in the baking dish. Allow to bake for 25-35 minutes, remove when the sauce is bubbly and the macaroni is golden brown on the top.
Step 4: Finally, heat canola oil in a medium saucepan. Once the oil is hot, add the sliced onion rings and cook for 4-5 minutes, or until golden brown. Drain excess oil on a paper towel and add to the top of your blazin' good mac 'n cheese.
Chocolate Peanut Butter No Bake Cookies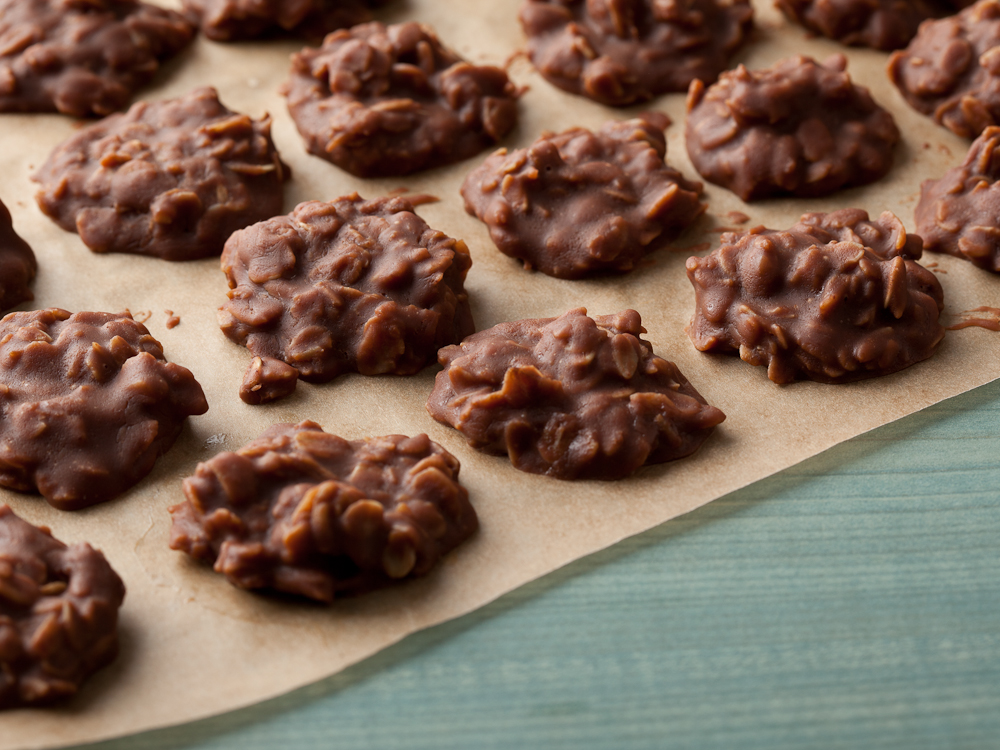 Prep Time: 5 Minutes
Cook Time: 15 Minutes
Ready In: 20 Minutes
Ingredients:
1/2 Cup of CBD Infused Butter

2 Cups of White Sugar

1/2 Cup of Milk

3 Tablespoons of Cocoa Powder

1/2 Teaspoon of Salt

3 Cups of Quick Cooking Oats

1 Teaspoon of Vanilla Extract

1/2 Cup of Creamy Peanut Butter
Cooking Instructions:
Step 1: Lay out 2, 2 feet strips of wax paper onto your counter or a baking pan.
Step 2: Heat a medium sized saucepan on the stove over medium heat. Add sugar, cocoa, CBD butter, milk, and salt into the saucepan. Stir until there is a consistent melted base. Now turn the heat to high, and allow to boil for 1 minute.
Step 3: Quickly remove from heat and add peanut butter, vanilla extract, and oats into the pan. Stir the mixture.
Step 4: Drop tablespoon sized portions of the mix onto the wax paper, and allow to stand until hardened. Enjoy!
CannbidiolCakes Pancakes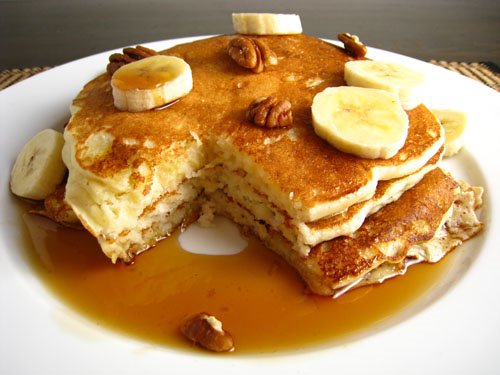 Prep Time: 20 Minutes
Cook Time: 20 Minutes
Ready In: 40 Minutes
Serving Size: 2-4
Ingredients:
1 Egg

1 1/4 Cups of Milk

2 Tablespoons of CBD Butter

1 1/4 Cups of Flour

2 Teaspoons of Baking Powder

2 Teaspoons of Sugar

1/4 Teaspoon of Salt
Cooking Instructions:
Step 1: Combine and beat an egg, milk, and CBD butter in a large bowl into a smooth, consistent base.
Step 2: Mix flour, baking powder, sugar, and salt. Then combine to the egg mixture from step 1. Beat into a smooth consistency. Optionally you may add chocolate chips, berries, nuts, or fruits.
Step 3: Pour 1/3 cup of the batter onto a heated, greased frying pan. Repeat until batter is gone.
Step 4: Flip the pancakes once bubbles begin to form on top of the pancakes.
Now dig in and enjoy a wonderful, pain-free morning!
Final Thoughts
It's now time for you to take your cooking with CBD knowledge to the kitchen to start putting a cannabidiol spin on your favorite dishes and recipes!
Although we provided 3 tasty recipes to infuse with CBD, that is not even scratching the surface. Stay tuned for more deletable CBD recipes for smoothies, main dishes, appetizers, baked goods, and more in the near future!
Do you enjoy infusing dishes and edibles with CBD? Which type of oil or fat do you prefer to use? Let us know your favorite recipes in the section below!