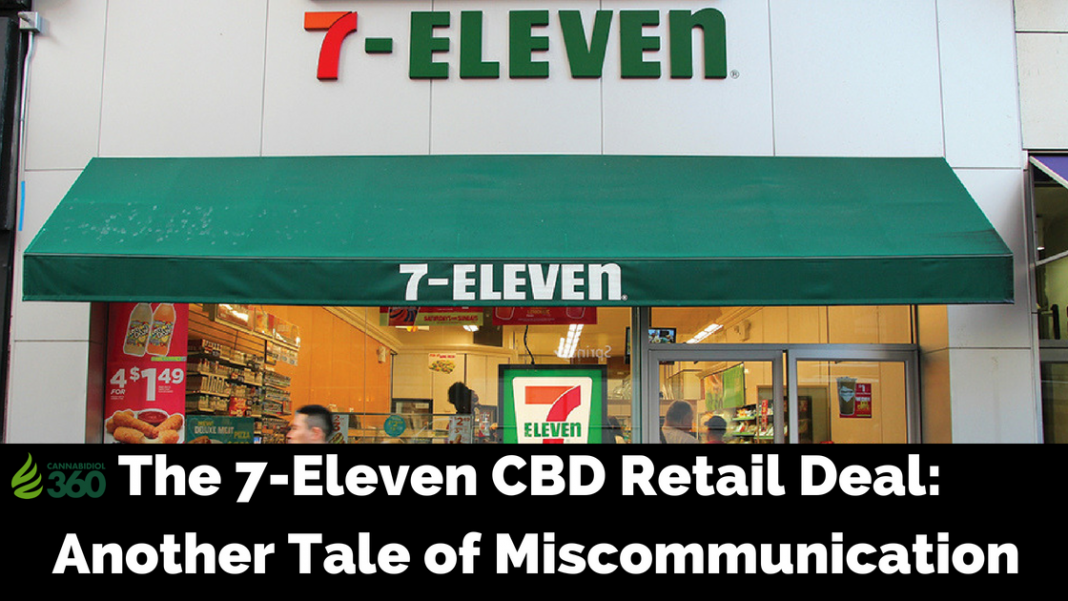 In reference to summarizing the details involved with this odd chain of events, it is worth mentioning how the title of this article pretty much sums it up entirely.
The Hemp Industry Daily, a widely-respected provider of information on Industrial Hemp news as well as up-to-date information directly related to CBD products derived from the hemp plant featured a story Published May 23, 2018 which was titled "CBD manufacturer signs deal to get product in 7-Eleven stores."
From this announcement, CBD users and advocates were understandably enthused and perhaps many brands of CBD Products felt a sense of instant relief and strong encouragement.
Countless consumers rely on Hemp-based CBD products for a number of health conditions. CBD causing much less suffering for struggling medical patients than some might imagine.
In fact, there are so many individuals throughout the U.S. who have never heard of CBD.
Furthermore, I know this to be factual, because I seem to speak with one or more than one of these CBD-unaware types each and every day.
Quick Reminder About CBD and Other Cannabinoids

As a reminder, in marijuana there is a cannabinoid known as cannabidiol aka CBD. Directly following the prevalence of THC, "cannabidiol" is the next dominant compound researchers have found to be highly effective for many physical ailments.
Taking this into account, there are hundreds of known cannabinoids found in both the marijuana plant and hemp plant.
Some of these other cannabinoids have been labeled as THC, CBG, CBA, and hundreds more.
CBD is scientifically proven to be non-psychoactive as opposed to THC, which is most definitely psychoactive and referred to as the cannabinoid that can create a "high."
Therefore, as long as the hemp plants contain an amount of THC That is 0.3% or less, then it is legal to grow and extract CBD for consumption.
CBD brands have been waiting patiently all throughout these legislative battles and hoping that public confusion decreases and consumers are then able to purchase their products in familiar settings, such as popular retail outlets.
Whether in convenience stores or shopping malls, the placement of products that are made with CBD would be a joyous scenario in direct correlation to any celebrations of achievement for all involved in the young industry.
Subsequently, we were able to see firsthand exactly what this situation might feel like if for instance CBD was granted permission by a contract to be sold in retail locations throughout the United States.
To reiterate, a story from Hemp Industry Daily was initially posted and it spread quickly throughout the World Wide Web. It stated:
"One of the nation's best-known convenience store chains, 7-Eleven, could carry CBD products in up to 4,500 franchise locations across the United States by the end of 2018. Phoenix Tears, a Denver company that makes hemp-derived CBD oils and oral sprays, announced the distribution deal Tuesday. The Denver company made the 7-Eleven deal with the help of MarketHub Retail Services, a distributor that works with 7-Eleven franchisees."
Blake Patterson, president of MarketHub Retail Services was quoted as saying, "Distributing CBD in 7-Eleven stores will address the growing consumer demand for effective, safe CBD-based products that can now be easily sourced over the counter".
Update on this Topic Seemed to Sing a Much Different Tune

However, there seemed to be some immediate pushback on this news, as 7-Eleven corporate caught wind of it.
An updated article had a title that summarizes the story perfectly, the article title is "CBD company stands behind distribution announcement as 7-Eleven cries foul"
This article was written by Kristen Nichols also published by the Hemp Industry Daily, indefinitely clarified a number of misunderstandings from earlier reports.
The article states, "Phoenix Tears announced the deal Tuesday, saying it reached the agreement with a distribution company that specializes in hemp product placement and works with 7-Eleven franchisees, MarketHub Retail Services. But 7-Eleven was not happy with the news".
Apparently, 7-Eleven was eager to reshape the narrative being communicated, as 7-Eleven spokeswoman Stephanie Shaw told the Hemp Industry Daily:
"That product is not going to be in our stores. We have no further comment."
Obviously, as most CBD users, enthusiasts and advocates already know, these products are a game-changer.
Furthermore, so do countless businesses
Kristen Nichols includes an important piece of information the CBD community must constantly be reminded of, which is: "The tiff between 7-Eleven and Phoenix Tears, a Denver company that makes hemp-derived CBD oils and oral sprays, underscores cannabidiol's legal uncertainty. It also lays bare the intricacy of franchised retail, where a corporate giant exerts limited control over the products sold in franchised locations.
This is where the debate becomes interesting and equally complicated.
President of MarketHub Retail Services, Blake Patterson did not agree with 7-Eleven's claim that their stores won't have the ability to sell CBD products.
Just as you might begin to assume these CBD industry based businesses are at fault and far too eager to share the information, the president of market hope services Blake Patterson, provides some very revealing information in reference to franchised 7-Eleven locations.
Patterson declares that, "They do have autonomy to carry products that are not corporate-authorized"
It appears here that the corporate offices of 7-Eleven are attempting to distance themselves from these reports.
Well Market Hub Services the distributor in the steel, represents clients who are owners of franchised 7-Eleven locations.
So perhaps maybe the wrong contact is being interviewed from 7/11 clearly their corporate offices want nothing to do with it but franchise locations may very well be able to carry and sell CBD based businesses products.
President of this distributor Blake Patterson further illustrates his point by insisting, "CBD is coming to 7-Eleven stores, he said. In fact, it's already in some."
According to Hemp Industry Daily, Kristen Nichols writes how Patterson told their publication that 7-Eleven franchisees already carry CBD products.
Not to mention, Patterson shares that there are about 20 separate brands with products being carried in nearly 140 7-Eleven locations.
These products range in a diverse group of available types, such as, CBD gummies, topical creams and oils.
The article also pointed out how 7-Eleven's corporate office did not respond to multiple calls and emails by the publication about how it plans to keep CBD out of franchised stores.
Yet, apparently there was at least an attempt to make a distinction between corporate interests and franchise stores in an email statement Hemp Industry Daily received.
A brief message said, "7-Eleven Inc. does not support the sale of cannabis-based products, including those with cannabidiol (CBD)," the company sent in an email.

Regardless, whether the corporate sector of 7-Eleven supports the sale of CBD or not, it seems that some of their locations that have been franchised for ownership by others may hold an entirely separate viewpoint on this matter.
Therefore, perhaps Market Hub Services is indeed correct when President Blake Patterson stands firmly by his claim that CBD will be sold in these convenience stores and in some areas, already are.