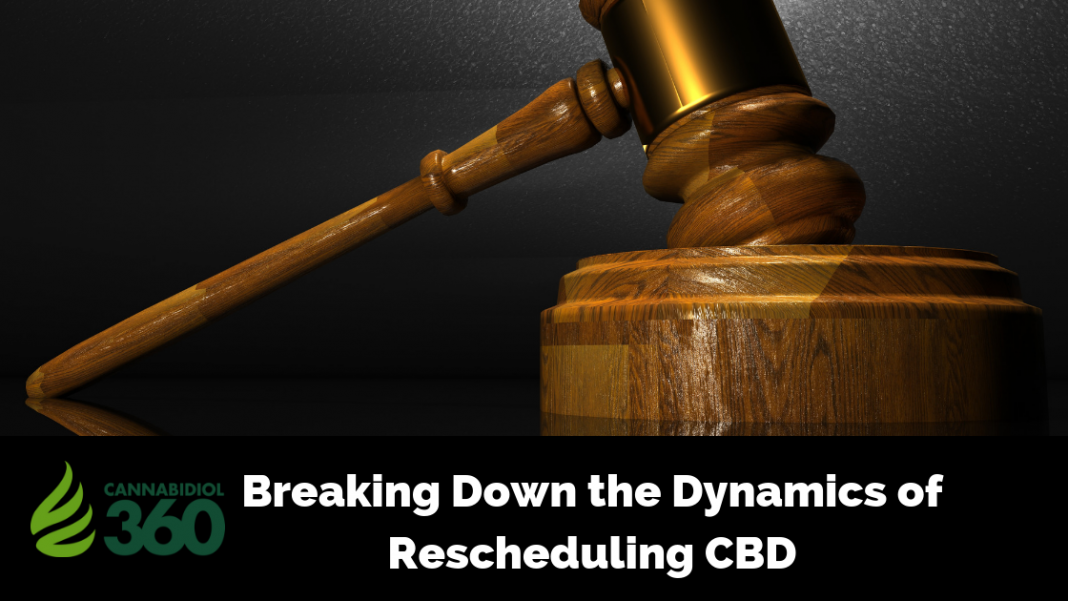 The situation surrounding the legality of CBD has reached a higher level of deliberate perplexing confusion.
GW pharmaceuticals owns a patent on CBD which it shares with the U.S, Government. Therefore, from the federal level rescheduling of CBD, we learn that GW Pharma has become the only business legally able to classify its CBD product as a Schedule V drug as opposed to a Schedule I narcotic.
This means, as of current, GW pharmaceuticals is also the only FDA approved CBD product, revealing to us how FDA approval will likely define whether or not a CBD product can reach Schedule 5 status.
All other CBD products from the hemp industry, cannabis industry, vape industry, the food and beverage industries health and wellness industry, and any other marketplace that CBD has been inserted appears that all other products containing cannabidiol will remain listed as a Schedule 1 narcotic.
The Rescheduling of Cannabidiol (CBD)
As mentioned by countless media outlets, experts, industry professionals, advocates, activists, legal professionals, economists, social scientists, investors and entrepreneurs — CBD is a non-psychoactive compound that can be derived from hemp or marijuana.
On a national level, the CBD industry has predominantly launched consumer products with CBD that originated from the hemp plant.
This is confusing for a number of individuals or entire groups who may not understand the biology of the plant life. 
However, many must learn and remember how marijuana and hemp are different in many ways.
Hemp and Marijuana Differences
First, the obvious difference being, that marijuana contains vastly higher levels of THC — which is the compound found in the cannabis plant that can create intoxicating effects ultimately altering the state of the human consciousness.
Secondly, there have been arguments made by political officials at the state level especially that if hemp cultivation was launched in their respective homes states then the cultivators could essentially start growing marijuana plants right next to the hemp which could lead to a black market spike in marijuana sales, since both plants look a like.
This argument is rooted in simplicity — a simple minded, inexperienced and uneducated perspective on the matter at hand.
Why? Well, when it comes to the science of cannabis, political officials should consult with industry experts before speaking on these issues.
Such issues have recently become much too crucial to protect, since it has proven to be a major facilitator for economic growth.
In addition, the cannabis industry has proven to be critical for positive advancement in the health and wellness industry of our modern world.
Furthermore, if you were to grow hemp anywhere near marijuana plants, then the hemp roots would essentially absorb quite a bit of the THC content being produced in a marijuana plant.
The Marijuana industry has been focused on manufacturing strain specific products and with marijuana cultivation.
Maintaining the properties that are associated with a particular strain of cannabis is extremely important for a number of reasons.
Whether that be for the retail side when it comes to consumers preferring a certain strain. Or whether it deals with the company who will process the matured plants into the final product they need the specific strain to contain the expected properties that the particular strain would usually yield.
Not to mention, there are also countless other reasons why it would be a major issue if you were to cultivate hemp plants near marijuana plants they are very different and should not be anywhere near each other.
This is yet another example of the hemp plant truly being such an amazing natural resource. Hemp not only absorbs certain compounds from the soil, but it also absorbs certain substances from the air no matter what environment it is living in.
Analyzing the Rescheduled CBD Status
Robert Fireman, CEO of MariMed Inc., was quoted as saying, "We are disappointed that the DEA did not reclassify CBD for all in the cannabis or hemp industries without the stipulation of FDA approval. If the positive data about CBD led the DEA to do this, then it should have been for everyone."
Well, surely we'd all love to believe how the advantageous scientific results that reveal the benefits of cannabidiol could be the primary motivator for rescheduling FDA-Approved CBD.
Yet, given the fact that the rescheduling of Cannabidiol was done simply to allow one pharmaceutical company's new FDA-Approved product to be available for sales, then the positive data on CBD unfortunately played a minor role.
While this rescheduling situation did not prove to be helpful for any of the thousands of brands that are technically CBD products, at least one brand was given the proper acceptance by the system.
So, perhaps there is still some hope with the passing of the 2018 Farm Bill, which will knockdown some major barriers for hemp cultivation.